Kit Benz, Gabi Rose, Jake Navarro, Nick Cabrera, and Valerio Fluido come together to form Enrose. The band just dropped their latest single, "Tattoo," which highlights their collaborative creativity and fearless approach to music. The song, born out of a melody in the chorus, propelled them into the realm of what they affectionately call "cool pop" – a blend of alt pop infused with saxophone.
With Jake and Anthony contributing their musical prowess, the track reached its final form, resonating with a theme of embracing risks. For Enrose, venturing into the unknown and embracing uncertainty is not only a part of their creative expression but also a celebration of life's brevity. Their influences come from unexpected moments, like playful imitations or spontaneous car sing-alongs. 
Despite the challenges posed by cancel culture, Enrose approaches their art with honesty and ambiguity, allowing listeners to interpret their songs in their unique ways. In the end, the band believes that not everything needs to be said explicitly, and their music speaks volumes through its poetic and open-ended lyrics.
Could you share insights about your recent release "Tattoo" and the collaborative efforts that shaped its final form?
Jake (drummer/co-writer) and I had been toying with a few ideas, chord progressions, etc. before I came up with the melody of the "Tattoo" chorus. That launched us in the direction we ultimately went in, which is what I like to describe as "cool pop," which is basically alt pop with saxophone (yes I made this up). Then Kit (keys) and Anthony (vocal production) helped us bring it all to its final form.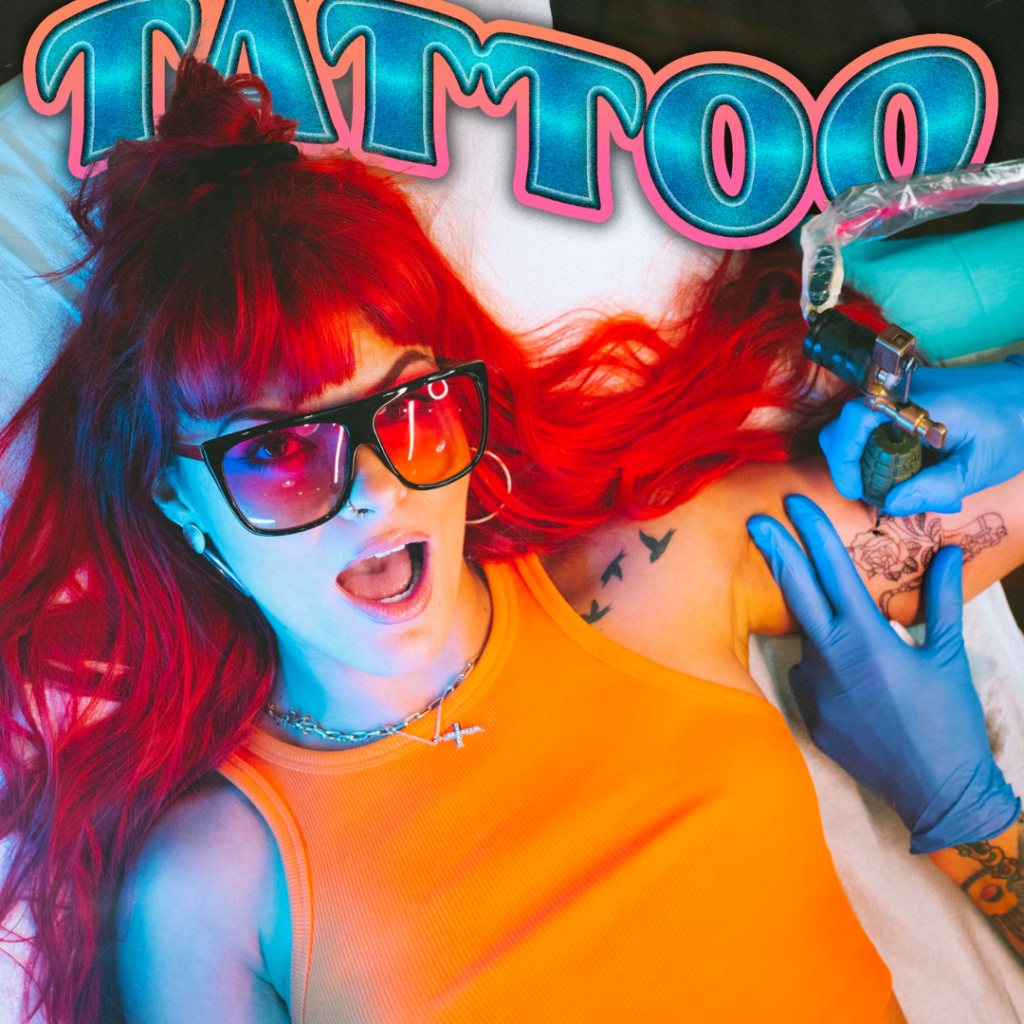 Fearlessly embracing risks stands as a central theme in the new single. How do you interpret and integrate this concept into your personal musical decisions?
I see every risk I take as a form of creative expression, and we all have it in us whether we choose to identify as creatives or not. It's the idea of recognizing that life is short and meant to be enjoyed, and our personal expression celebrated. This is important to me in everyday life as well as in the studio, because it rings true always- taking risks is scary, but it's how we learn and grow and begin to appreciate that privilege.
What's one unusual or unexpected source of inspiration that has influenced your music or lyrics?
Sometimes I get inspired when I'm totally playing around, not taking myself seriously at all. I might be imitating a celebrity, making up a song about what I'm eating on the spot, or just singing gibberish in the car while driving.
Many bands have a "road trip" playlist. What are some unexpected or unique tracks we might find on yours?
"Show Me How to Live" – Audioslave
"Montana Sky" – Jonas Brothers
"GODDESS" – PVRIS
"Hella Good" – No Doubt
"Take It Easy" – Eagles
In an age of streaming and digital downloads, how do you see the role of album artwork and physical releases in conveying your band's message or aesthetic?
I always like to have something physical to hand out or sell at shows – stickers, shirts, cds, guitar picks. Our first few shows as a band were during COVID and we could only play outside on the street. I designed postcards for each specific day, hand-signed, and handed them out to everyone who came to listen. I really enjoy the visual side of everything.
Can you share a memorable behind-the-scenes story from one of your live performances that really defines your band's spirit?
Last summer we performed at a street festival and it started pouring rain right before we were supposed to start. We were outside and not prepared for rain, so really quickly we all had to help get tarp over the stage and protect all the sound equipment. We waited it out for a little while, but once we realized the rain just wasn't going to stop, we started playing and crushed a 30 minute set as large pools of water that accumulated in the tarp would periodically crash down in front of us, risking our amps and pedalboards. Luckily the gear was fine, we had a great audience, and ultimately I was proud of the team effort and positivity of the group.
Given the prevalence of cancel culture and criticism, has being an artist become more challenging? Are there particular subjects you approach with care to steer clear of potential repercussions and backlash?
Art is and always has been an interesting medium of discourse for challenging topics. When the band and I experience things in our own lives, we want to feel free to work through that, and speak about things that feel important to share through music. As far as lyrics, they're written sort of like poems, and often are ambiguous in meaning. Anyone who listens can have their own experience with our songs and they don't need to mean the same thing for everybody. So for me, art and music is still the best way to say what I need to say. And not everything needs to be said.
Check out "Tattoo" below: