Ishawana has been one of the most underrated Dancehall artists in our era. A huge vocal flex, proper feel good lyrics, and a radiant stage performance Ishawna has finally partnered with world class label Payday Records to cook up a fresh new soundscape. Her latest single "New Child" has been months in the making and is resonating with fans, and new audiences alike. With a story-line of empowerment and new beginnings, the track is a reflection of Ishawna's new-found reflection on life, love and most importantly growth.
As she unveiled "New Child," Ishawna noted her deliberate decision to release a track that is fun, upbeat, and relatable, while also serving as a women's anthem. "With this single, I wanted it to be something fresh, something fun and something every woman can relate to," she explained. Ishawna's new single extols the joys of independence and celebrates the courage to walk away from relationships that don't serve one's well-being in any walk of life.
"I wanted it to be a celebration of our independence when we walk away from things that aren't serving us. We deserve to celebrate new beginnings," Ishawna stated, reinforcing the track's empowering message.
Ishawna's Collab with Ed Sheeran
Released on May 23, 2023, it has already gathered over 300,000 views on YouTube and is currently trending at number nine on the streaming platform's list in Jamaica. This anthem of self-expression follows her massive collaboration with pop legend Ed Sheeran on the track "Brace It."
Ishawna's career trajectory took an interesting turn after Sheeran listened to her cover of his hit "Shape Of You" during his 2017 Caribbean visit, culminating in their collaborative track. Ishawna is known for her candid approach to music, and unlocked something new when working with Ed Sheeran and Cordel "Skatta" Burrell to craft "Brace It,". After all it is Ed Sheeran's first dancehall track. This cross-genre track showcased the synergies between the artists, gaining over six million streams in the first month and peaking on the iTunes Reggae Chart.
The release of "New Child" comes on the heels of Ishawna's signing with a major international record label. "Doing music on my own over the years would definitely have been more difficult than having a team," Ishawna said. Her new alliance promises to give her career a robust structure, from planning to marketing, as she gets set to introduce herself to a broader audience.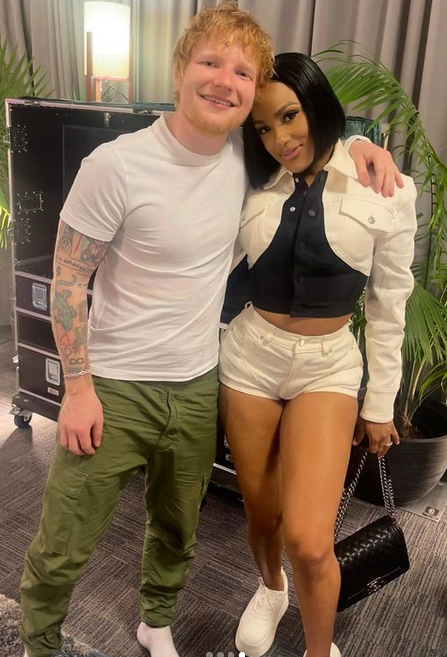 Ishawna's Unapologetic Style
Despite these changes, Ishawna assured fans that she would remain true to her roots. "I will never change, so I just have to find a way to make my songs commercial without altering who I am," she added. Ishawna further clarified that her controversial persona is not a calculated move, but a reflection of her authenticity as an artist.
This summer, fans can anticipate the release of Ishawna's EP, which promises to expand her appeal beyond her core demographic. "My label wants to put me out there again, and I want to introduce myself to the world," she added. With the anticipation of her upcoming EP and the positive response to "New Child," Ishawna is indeed charting new territories and redefining the dancehall scene.
As she navigates this exciting new phase in her career, Ishawna is not just reaching for the stars; she's harnessing them, carving out a space in the glittering constellation of dancehall royalty. The unrelenting momentum of her career, propelled by her creative prowess and strategic alliances, suggests that Ishawna is on the verge of breaking into an unprecedented realm of success.