The Late Late Show host, James Corden, invited Bad Bunny to help him beat the Los Angeles traffic. While driving around and singing the Puerto Rican superstar's most popular songs, the English comic actor, who is leaving the show later this year, asked about the artist's name, his love for wrestling, and many more.
Joining Corden for the Carpool Karaoke segment, Benito sings "Dakiti" (Bad Bunny, Jhay Cortez), "I Like It" (Cardi B, Bad Bunny & J Balvin), "Tití Me Preguntó" (Bad Bunny), "Break Free" (Ariana Grande ft. Zedd), and  "As It Was" (Harry Styles). During their ride, Bad Bunny confesses that he almost missed his opening performance at the 2023 Grammy Awards.
"I was freaking out… I was sweating. Two minutes from the Crypto Arena, I was very nervous. I was very anxious, 'cause I was the opening act," said the singer, admitting: "The rehearsal was at 9 a.m. The Grammys, 5 p.m. What I'm supposed to do the whole day? I talked that day, I said, 'I have time to go into my home, working out, take a shower and go back, and everything's going to be alright. But I think I learned a big lesson."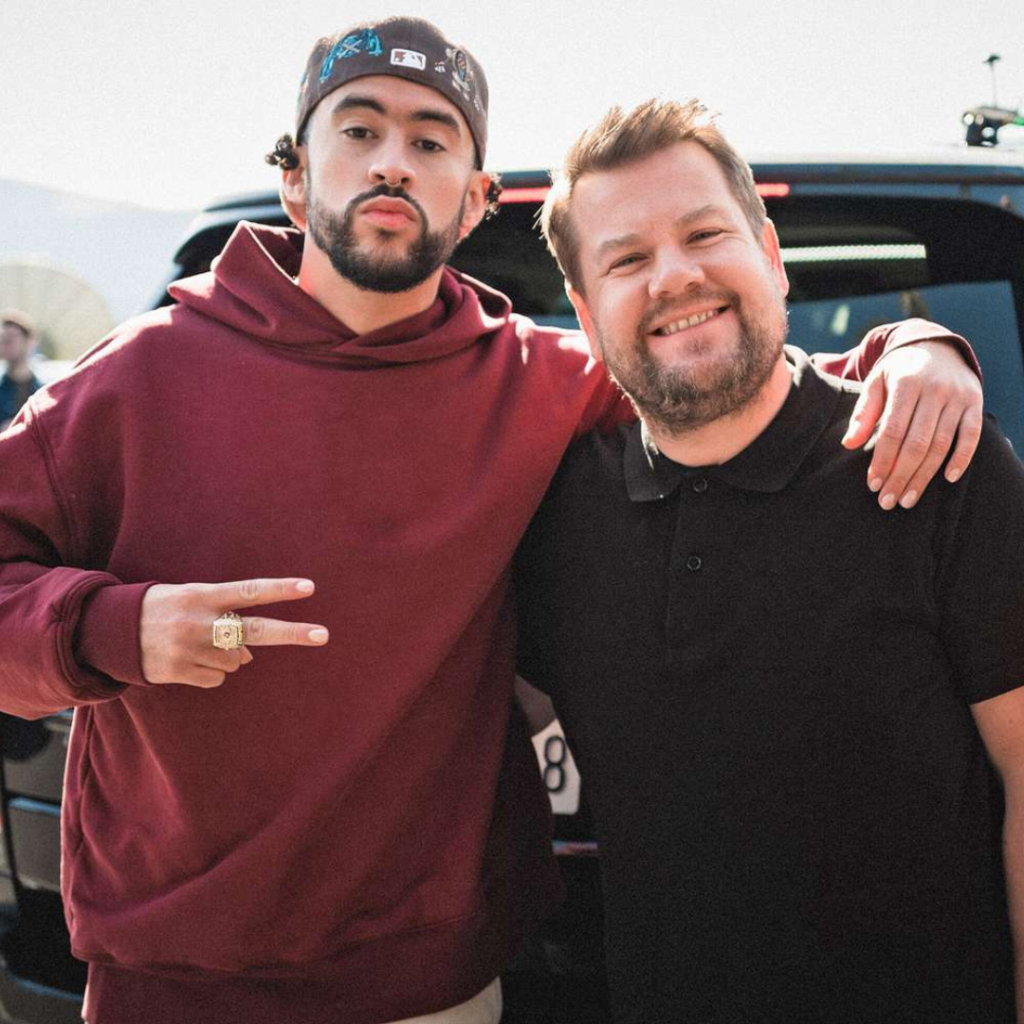 Corden also asked Bunny about his wrestling experience in the WWE's Royal Rumble, to which he replied: "I've loved wrestling ever since I was a kid. In my songs, I have a lot of wrestling references. WWE said, 'Whoa, this guy is a fan of us, so we should do something with him,' so they asked, 'Do you want to be a referee?' I said, 'I want to fight.' [They said,] 'Really? He's sure?' Yeah, I want to fight. I want to be in the ring for real."

Bad Bunny revealed that the day he participated in the Royal Rumble was perhaps one of the best moments of his life. Corden later pulls over and the Un Verano Sin Ti artist shows the actor a few of his moves in the ring. Then they are joined by American wrestler Rey Mysterio, who fights against the comedian in a friendly battle.
Watch Bad Bunny's Carpool Karaoke here: