Two of Puerto Rico's finest, Rauw Alejandro and Daddy Yankee, dropped the visuals of their explosive collaboration, "Panties y Brasieres." Directed by Martin Seipel and the "Te Felicito" artist himself, the music video has already surpassed four million views in only two days. The new clip follows the extragalactic narrative of the 30 year old's recent album and features strange creatures and cyborgs.
The "Punto 40" singer announced the release in an Instagram post, "YA ESTA DISPONIBLE UNO DE MIS VIDEOS FAVORITOS CON UNO DE MIS ARTISTAS FAVORITO @daddyyankee AKA YANKEEMAN. SATURNO NO EXISTIRÍA SI NO FUERA POR LA INSPIRACION QUE ME HA DADO ESTA LEYENDA Y POR TODA LA ESCENA DEL UNDERGROUND EN PR BACK IN THE DAYS THE LATE 90's 🇵🇷🪐🪐🪐🪐" ("One of my favorite videos with one of my favorite artists @daddyyankee aka Yankeeman is out! Saturno would not exist if it wasn't for the inspiration that this legend has given me and for all the underground scene PR back in the days of the late '90s.")
Rauw shared a behind-the-scenes photo with El Rey and captioned it with: "El dia que escuche a @daddyyankee tirar el intro diciendo "La chica se suelta si ve a Rauw con el Yankee 👙👙👙 " Dije Saturno está terminado …. 🪐 🙏🏼💙." Everybody knows how much Alejandro loves and respects Daddy Yankee. It doesn't come as a surprise that the Saturno artist has a special place for "Panties y Brasieres" in his heart.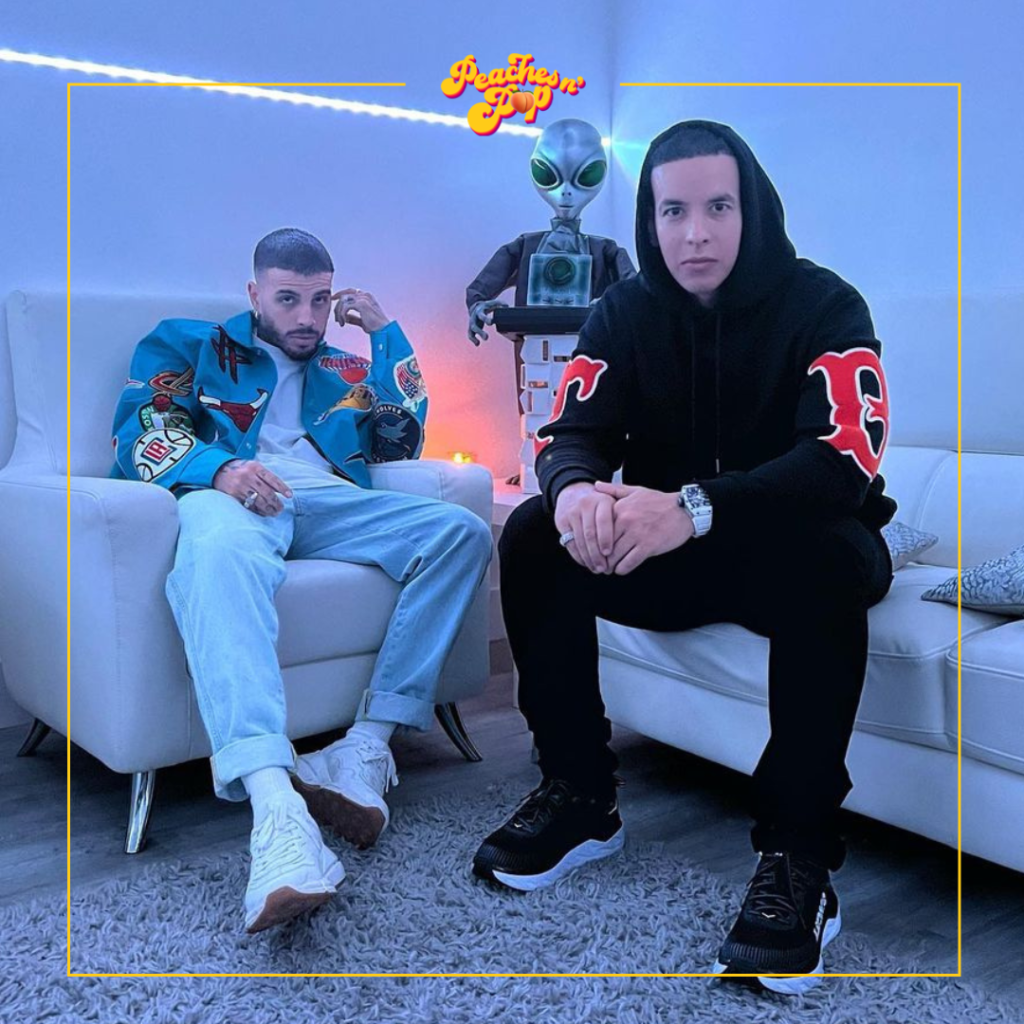 In a conversation with Apple Music 1's host Zane Lowe, Rauw had said: "Daddy Yankee for me means reggaeton himself. He was one of the first artists who put that type of genre outside the island, around the world, with his biggest hit, "Gasolina." Even in China [and] Japan, they were dancing to his songs. So it's like he helped to support and put more big Latin music in the Reggaeton culture. And for me, it means as a Puerto Rican, I feel really, really proud."
Watch the official video for "Panties Y Brasieres" here: