One White Street in New York's TriBeCa may be an address that rings a bell with those of a certain age. 
In a past life, the four-story 19th-century townhouse was the location of John Lennon and Yoko Ono's legendary 'Nutopian' embassy, a temporary utopian "micronation" devoid of borders, briefly established by the duo in 1973 to swerve Lennon's looming deportation. 
Now in the hands of successful chef Austin Johnson and Dustin Wilson, the former Eleven Madison Park sommelier, it is the site of one of the city's most anticipated new restaurants. Keen not to paper over the building's colorful history, the duo named the restaurant after its famous address: 1 White Street. 
The pair also carried Nutiopia's borderless ideals into their food which they describe as "progressive American cuisine" which "takes cues from around the world". The emphasis is unfussy, curated dishes featuring hyper-seasonal local ingredients sourced from the restaurant's Hudson Valley farm, Rigor Hill.
[See also: Elite Traveler Launches World's Top Restaurants Database]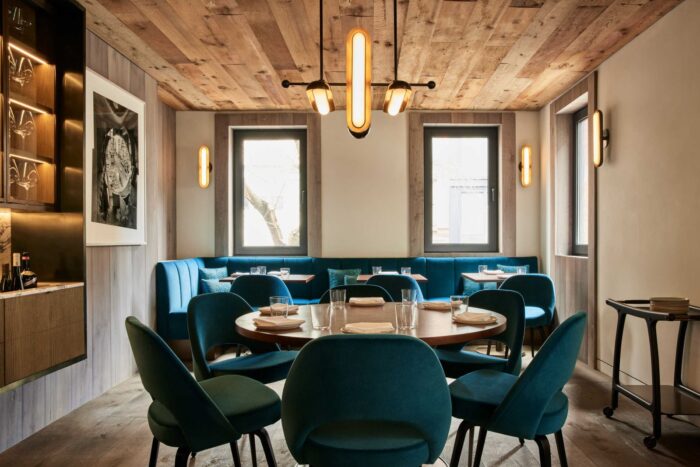 Chef
Johnson has been heavily influenced by his time as executive chef at Parisian Michelin-starred-restaurant Frenchie, an eatery synonymous with seasonal and produce-centered cooking. 
It was while Johnson was working in Paris that he met Wilson, an encounter which resulted in Johnson moving back to the United States and the pair embarking upon opening One White Street (not before launching Goodman's Bar in 2020.)  
Menu
One White Street is the embodiment of farm-to-fork cuisine. Johnson's pursuit for the freshest of produce led him to prolific organic farmer Elliot Coleman — the brain behind the design of the farm at the famed Stone Barns. The chef worked with Coleman to create the two-acre Rigor Hill farm in upstate New York.
Rigor Hill will provide One White Street with seasonal produce all year round ranging from the humble carrot through to specialized ingredients, flowers and even hops for the eateries' house beer.
Diners can choose from two menus to enjoy the fruits of the farms' labor: a more casual option on the first floor or a multi-course tasting menu on the upper stories. Downstairs, the highlights include the incredibly fresh flavors of grilled scallop skewers with summer squash, pumpkin seeds and arugula pesto or the punchy flavors of shaved fennel served with yuzu, blue cheese, white anchovy and pistachio.
From the current tasting menu guests can sample an eclectic selection of plates with a global edge, such as roasted striped bass with Thai green curry, charred avocado and carrot as well as smoked tomato with Calabrian chili, toasted sesame and pearl onion.
The wine list contains old and new world wines from sustainable producers and there is an emphasis on diverse grape varieties.
Interior
Wilson and Johnson worked with the San Francisco-based designer Richard Felix-Ashman to transform each story of the townhouse into an intimate but spirited dining space. Spanning three floors, each offering a distinct dining experience with its own open kitchen, the individual levels are also available to be reserved for private gatherings. 
Walls and ceilings paneled in European white larch and furnishing from renowned American makers create a simple and stylish ambiance, while original photography by New York downtown artist Gordon Matta Clark adorns the second and third floors.