The Italians take their cuisine very seriously, and restaurants in the floating city of Venice are widely regarded as some of the best in the country. Risotto and bigoli pasta are classic dishes to try here, along with a rich and varied fish and seafood offering, which is a big feature of the Venetian diet. The most authentic restaurants will source their seafood locally from the Lagoon, so your catch will always be fresh.
On top of this, Venice is celebrated for its traditional cookies, cakes and desserts, so it's well worth leaving some room for each restaurant's sweet plates. Whether you're looking for local fare, exceptional produce or something a little further afield, follow our guide to find some of the best restaurants in Venice.
Locanda Cipriani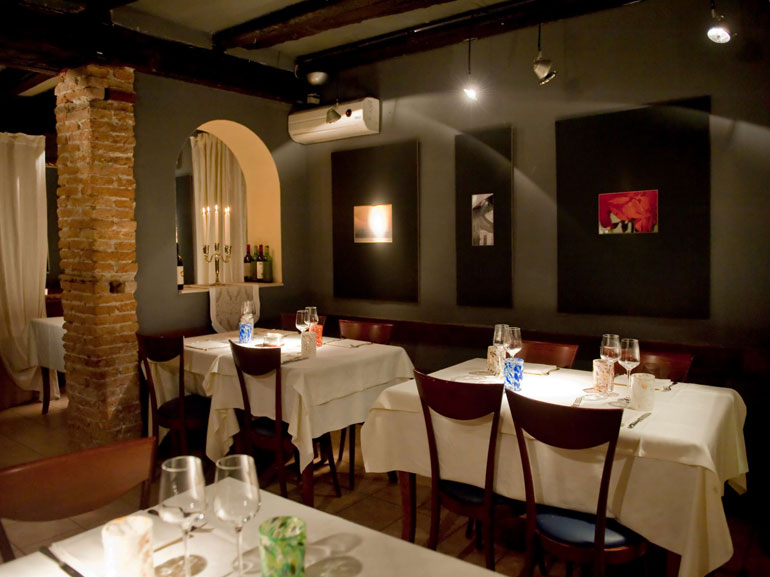 Despite being located on the historic Torcello island, Locanda Cirpriani is just 30 minutes from the center of Venice. Highly regarded as one of the best places to eat in Venice, locals and international travelers alike flock to Locanda Cirpriani because of its incredible food and unique location, which offers solace from the bustling streets of the city.
Since it opened in 1938, the restaurant has attracted an elite clientele including Ernest Hemingway, Paul Newman and Queen Elizabeth II. It is still owned and run by the Cipriani family and specializes in rustic, traditional cuisine, such as the John Dory fillet which is cooked according to Carla Cipriani's recipe. The three indoor dining rooms, outdoor terrace and garden can all be booked for special events and customized according to guests' requirements.
Antiche Carampane
Located near the Rialto Bridge in the heart of Venice is one of the city's oldest trattorias, Antiche Carampane. Here, expect to dine on an authentic menu overflowing with traditional cooking, fresh wild fish, handmade sweets and biscuits.
Originally founded by Giovanni Bortoluzzi in 1983, it was taken over by his sister Piera in 1999. To this day, Piera is involved with the day-to-day running of the restaurant – though she now has help from her son Francesco Agopyan, who has been working in the family business since 2004. Over the years, VIP guests visiting Antiche Carampane have included Yoko Ono, Bill Murray, Natalie Portman, many Italian actors and international politicians.
L'Alcova Restaurant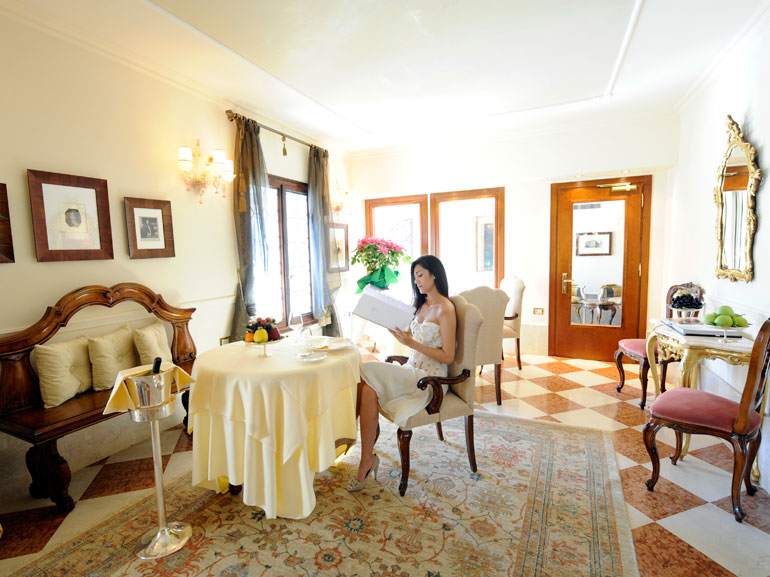 Situated within the luxurious Casagredo Hotel, L'Alcova Restaurant boasts a panoramic terrace next to Venice's famous Grand Canal. Its proximity to the Canal and expansive outdoor space makes it the perfect setting to watch all the action on the Venetian waterway, transforming L'Alcova into one of the most romantic restaurants in Venice.
Open all year round, L'Alcova is an exclusive and intimate restaurant featuring refined, traditional Italian dishes that are characterized by rich tastes and great personality. At the helm is chef Damiano Bassano, who has a strong philosophy on experimenting with techniques, providing a fresh twist on traditional Venetian cuisine.
Osteria Alle Testiere
Only a few steps from Saint Mark's and the Rialto Bridge, Osteria alle Testiere is a popular romantic restaurant located in the heart of Venice. With only nine tables available, it's also extremely exclusive, with diners booking weeks in advance to be able to secure a table within the establishment.
Run by co-founder and head chef Bruno Gavagnin, Osteria alle Testiere offers only the best of the daily fish market – no bolognese, no pizza, just the catch of the day. The wine list is similarly curated, put together by sommelier Luca De Vita. Listed in the Michelin Guide since 1997, Osteria alle Testiere has become a haven for artists during Art Biennale and the Film Festival, partly because of its 'secret' location away from the paparazzi.
Mirai
While many of the establishments that have made our list of the best restaurants in Venice boast Venetian cuisine, Mirai is a refreshingly different option. Instead, the restaurant is setting the standard for Japanese dining establishments in Venice, thanks to the creativity and talent of top sushi chef Norio Nishibori, who has created exquisite dishes for the restaurant.
In Japan, 'sushi' refers to a wide range of dishes, not just ones that are fish-based; the thing each 'sushi' has in common is that they all use rice as a staple element and are prepared according to rigid and complicated rules. Mirai uses fish of the highest quality and freshness and for this reason, the fixed menu always gives way to the specialty of the day.
Osteria Boccardoro
Antico Martini
Though situated in a building with a history dating back to the 1720s, the refined restaurant that is Antico Martini burst onto the scene for the first time in 1952. Since then, it has been internationally recognised as one of the best restaurants in Venice, with previous guests including the likes of Laurence Olivier and the royals, Edward Windsor and his wife Wallis Simpson. Located close to the Fenice Theatre, Antico Martini it is an ideal pre-theater restaurant and is also listed as a building of historical interest.
At Antico Martini, diners can expect to find the very best choices of fresh fish, such as king prawns and scampi, or traditional meats like Venetian-style liver (fegato alla Venezian) accompanied by fresh seasonal vegetables. The first course embodies the delicacy of Venetian cooking with an array of flavors and colors. However, the desserts here are worth savoring too, with a wide choice of pastries, cakes and confectionery available. Dine in the enchanting private courtyard, the terrace facing the square or in one of the three elegant dining rooms.